Porters Perks

Porters Perks is a rewards program that offers significant benefits to our frequent and loyal customers.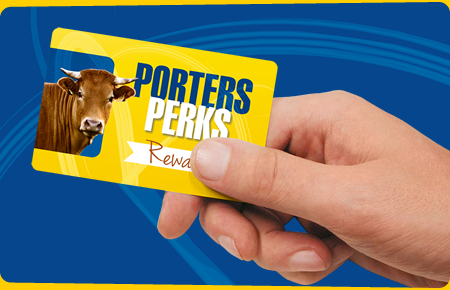 Porters Perks cardholders have access to all exclusive offers, promotions and giveaways.

Every $1 spent on bar, bistro, bottleshop or cellars purchases generates 1 point. Every $5 spent on gaming machines generates 1 point.


100 points are equal to $1.


While using your card, you can accumulate points for any eligible purchase at any point of sale, or redeem for cash at either of our two Self-Serve Kiosks.


Porters Perks cardholders must swipe their card during the purchase transaction to generate points.


A points tally will display each time a card is swiped. Ask one of our staff for an updated tally.


Porters Perks is open to all people aged 18 and over.

Proof of age may be required prior to acceptance of membership or when redeeming points. By becoming a member, members who agree to receive promotional information will receive such information via email, post, SMS text, or all. In the event of a power failure or malfunction resulting in non-allocation of points, such points will not be subsequently allocated.