Pub Archive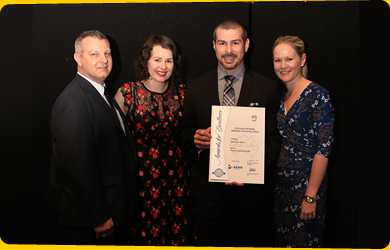 22 SEPTEMBER, 2016 - Porters Plainland Hotel are the proud winners of the Best Keno Venue category at this year's Australian Hotels Association National Awards for Excellence.
Thank you to all our wonderful Keno players who enjoy the game, and to our awesome bar staff who ensure everyone gets their tickets on time. Everyone's a winner!


30 SEPTEMBER, 2015 - Porters Plainland Hotel has taken out the Best Keno Facility award at this year's Queensland Hotels Association 23rd annual awards for excellence.
The honour was awarded to the venue with the best Keno setup and displays, sales performance, promotional activity and customer service, with Porters singled out from a field of about a dozen hotels statewide.


5 MARCH, 2013 - Cheers! Thanks to your support we raised $5,733 for the Queensland Floods Appeal 2013 during the month of February. Porters four-week appeal committed 5 per cent of our weekly Bar takings as well as the proceeds from raffles to aid Lockyer Valley flood victims.


1 FEBRUARY, 2013 - Two years on, Lockyer Valley residents have been hit again with floodwaters devastating local homes and businesses in the wake of Cyclone Oswald. We all know someone who has been affected, and many of us are helping wherever we can. Here at Porters Plainland Hotel, we're adding our little bit to the effort.
For the month of February, Porters will donate 5% of our weekly Bar takings to the
Queensland Floods Appeal 2013
. Every beer you enjoy at the Bar will go some way to helping Lockyer Valley flood victims.
If you wish to make a direct donation to the Queensland Floods Appeal, you can do it
here
.


9 MAY, 2011 - Porters have been doing some refurbishment to improve your experience of the Highway's family pub! Check out our new and revamped Gaming area today. Plus we've added a fully heated outdoor area for smokers just in time for the winter months, with a new second deck attached to the TAB.
We've also fully refurbished all the Hotel toilets, laid new carpets and introduced some new furnishings in the Dining Room. Drop in today for lunch, dinner or the Highway's best entertainment - you'll like what you see!


9 FEBRUARY, 2011 - Cheers! You helped raise $7,961.48 for the Queensland Premier's Flood Relief Appeal during the month of January. Porters four-week appeal, which finished on 6 February, committed 5 per cent of our weekly Bar takings as well as the proceeds from various raffles.


26 MAY, 2008 - Family Business Australia, the peak body for family and private enterprises in Australia, have awarded Porters Plainland Hotel 'Third Generation Family Business of the Year (Qld)' for the second year running.
Meanwhile Schultes Meat Tavern of Plainland were named Second Generation Family Business of the Year in the FBA awards.



1 JANUARY, 2008 - Warrego Highway travellers will have noticed the slabs going up over recent months, and on Saturday 22 December the hard work finally paid off with the grand opening of the Plainland Hotel's huge new drive-through bottleshop, just in time for Christmas.
Featuring a greatly enlarged, fully air-conditioned and modernised product area including a walk-in coldroom, the new building at around 300 square metres is more than double the size of the old hotel bottleshop, and promises to continue the Porter family's renowned service to their patrons. Busy travellers can now also enjoy the convenience of a two-lane drive through...
»
more



12 NOVEMBER, 2007 - 30 years of dedication were rewarded in a surprise gong from Queensland's peak hotels body recently, when Bob and Julie Porter were named the QHA Hoteliers of the Year for 2007.
The Queensland Hotels Association's most prestigious award was the last to be presented at the annual awards night held in Brisbane on 1 November, and Bob and Julie freely admit to being 'totally surprised'.
"It was a very emotional moment. It's more of a personal thing for us. We've put in the hard yards together and we are very proud of that," Julie Porter said.
»
more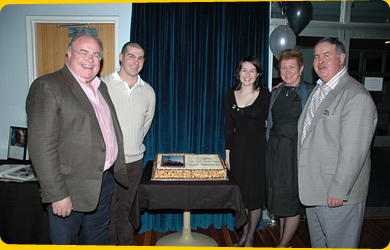 30 JULY, 2006 - For the Porters, now in their third generation behind the bar at the Plainland Hotel, hospitality runs in the blood.
This July the family celebrates sixty years since Richard and Rita Porter took over management of the Warrego Highway landmark, at the gateway to Queensland's Lockyer Valley.
Their children Bob, Robyn and Annette have a wealth of memories from the early years at Plainland, when the modest pub building doubled as the family's home...
»
more


7 OCTOBER, 2003 - Porters Plainland Hotel has been named Queensland's Best Hotel/Tavern Redevelopment Under $1 Million in this year's Queensland Hotels Association (QHA) awards.
Completed by design and construction firm Paynter Dixon Pty Ltd, the hotel revamp was also recently named best refurbishment/renovation up to $2 million in the Queensland Master Builders Association's 2003 Housing and Construction Awards.
»
more


16 SEPTEMBER, 2003 - It was a dream come true for 16 local enthusiasts this Monday night, when Australian snooker legend Eddie Charlton played the Plainland Hotel.
'Fast Eddie' Charlton, a three-times world championship runner-up and Australian eight-ball champion, enjoyed an evening of eight-ball action at the Plainland during a tour from Sydney to Rockhampton.
»
more